How It Works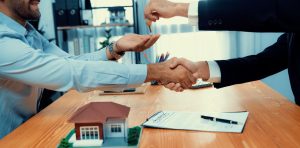 Navigating the realm of real estate can often feel daunting, but our Cash for Homes process is designed to be clear, quick, and utterly straightforward. We've refined our method to ensure homeowners like you can transition smoothly without the hassles tied to traditional sales.
Give Us a Call
Your journey begins with a simple phone call. By reaching out to us, you're taking the first step towards a hassle-free sale. Our team is always ready to listen, understand your specific circumstances, and provide initial guidance on how we can assist.
We'll Valuate Your Home During a Walkthrough
No endless showings or intrusions. Just one walkthrough is all it takes. Our experienced team will assess the condition and potential of your property firsthand. By comparing it with recent sales in the area and understanding market trends, we ensure a comprehensive and fair valuation.
Accept On Your Timeline
Once we've provided our offer, the ball is in your court. We respect your decision-making process. Whether you're looking to close immediately or need some time to think things over, we'll adjust according to your timeline, ensuring you have complete control over when and how the sale proceeds.